No time for meal prep? (Not even a no-cook meal prep or one that you could make in 90 minutes or less?) At least you can be prepared with a few nutritious no-cook snacks to get you through hectic days, and keep you from hitting the vending machine or fast food window.
Make These Simple No-Cook Snacks
These no-cook snack boxes are easy to put together and are filling enough to pass for a regular meal, or you can snack on them throughout the day. Each has protein or healthy fats to help satisfy hunger, and fiber to keep you feeling full longer. We made sure they pack lots of color and flavor too, to appeal to your tastebuds when that mid-afternoon rumble in your tummy cries out for FOOD! Get more ideas for creative snack combinations.
How Do Snacks Fit Into Your Healthy Meal Plan?
If you're working hard to eat healthy at breakfast, lunch, and dinner, don't give in to temptation at snack time. Use these snack combos to up your snack game from a basic apple or bag of carrot sticks to something you'll actually look forward to eating every day.  We've included the Portion Fix equivalent for each snack box so you can easily add it to your meal plan! Find out how Portion Fix can make losing weight simple. These container amounts can also be used if you're following the meal plans for 21 Day Fix, 21 Day Fix Extreme, CORE DE FORCE, 22 Minute Hard Corps, and The Master's Hammer and Chisel.
Healthy Snacks for Kids
These snack box combos are great ideas for kids too! We know, kids are notoriously picky eaters (and some of you grownups are too!). However, so many snacks targeted to kids are light on nutrition and heavy on sugar and artificial ingredients. You may look at these snack ideas and laugh: My kid would NEVER. That's OK! We know it can be tough to please developing palettes. Use these snack boxes as templates to create your own snack ideas based on foods they do like. Swap kiwi for blueberries or apple slices, trade guacamole for hummus. If celery is a no-go, how about baby carrots? Some kids will only eat celery when it's cut into very thin sticks, or carrots if they are sliced into circles. Whatever it takes. A little bit of peanut butter makes both better.
Give Me Protein Snack Box
What's in this snack: 2 hardboiled eggs. 4 oz. deli turkey, 1 oz cheese, 1 cup celery sticks with 1 Tbsp. peanut butter
Portion Fix containers: 1 green, 2 red,  1 blue, 3 tsp.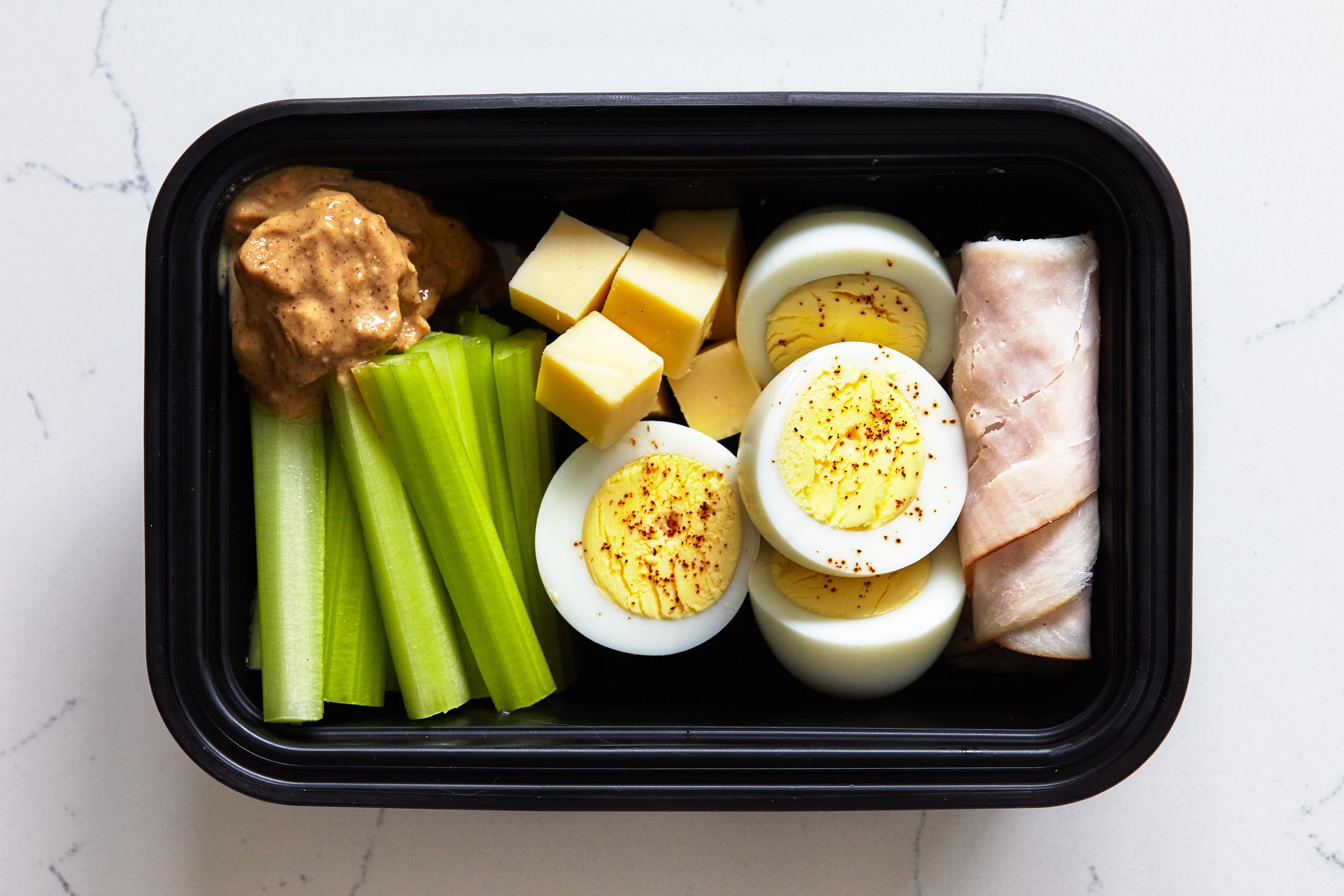 Fruits and Nuts Snack Box
What's in this snack: ¾ cup plain 1% Greek yogurt mixed with 1 tsp. honey and ½ tsp. cinnamon, ½ cup strawberries, ½ cup nectarine or orange wedges, ½ cup green grapes, 12 raw almonds
Portion Fix containers: 1 red, 1 ½ purple, 1 blue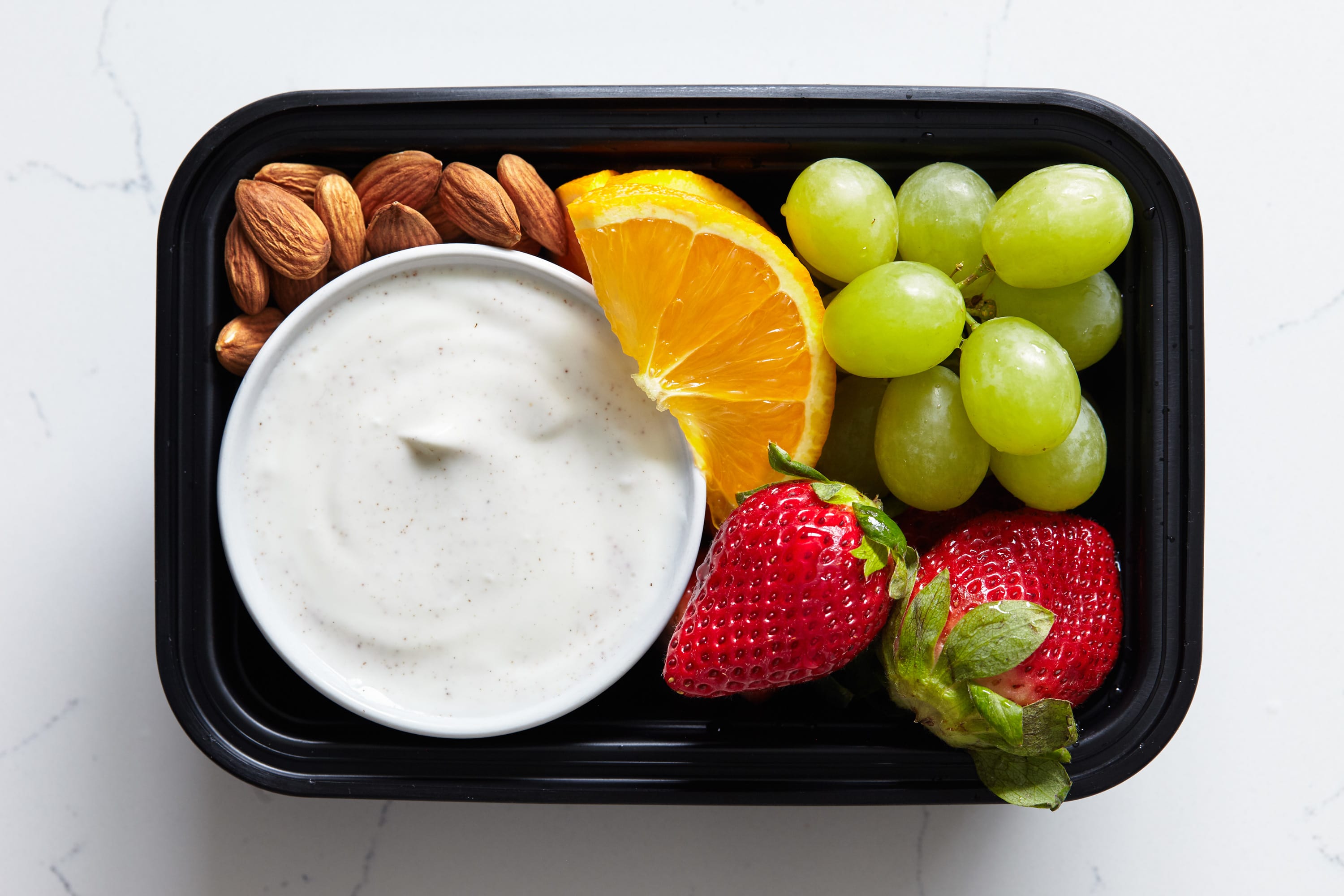 Easy Roast Beef Pinwheels
What's in this snack: ¼ cup goat cheese, 4 oz. sliced roast beef, ½ cup spinach rolled up in 1 6-inch whole wheat tortilla and sliced into pinwheels, ½ cup cherry tomatoes, 1 kiwi (or plum, or small tangerine)
Portion Fix containers: 1 blue, 1 red, 1 green, 1 yellow, 1 purple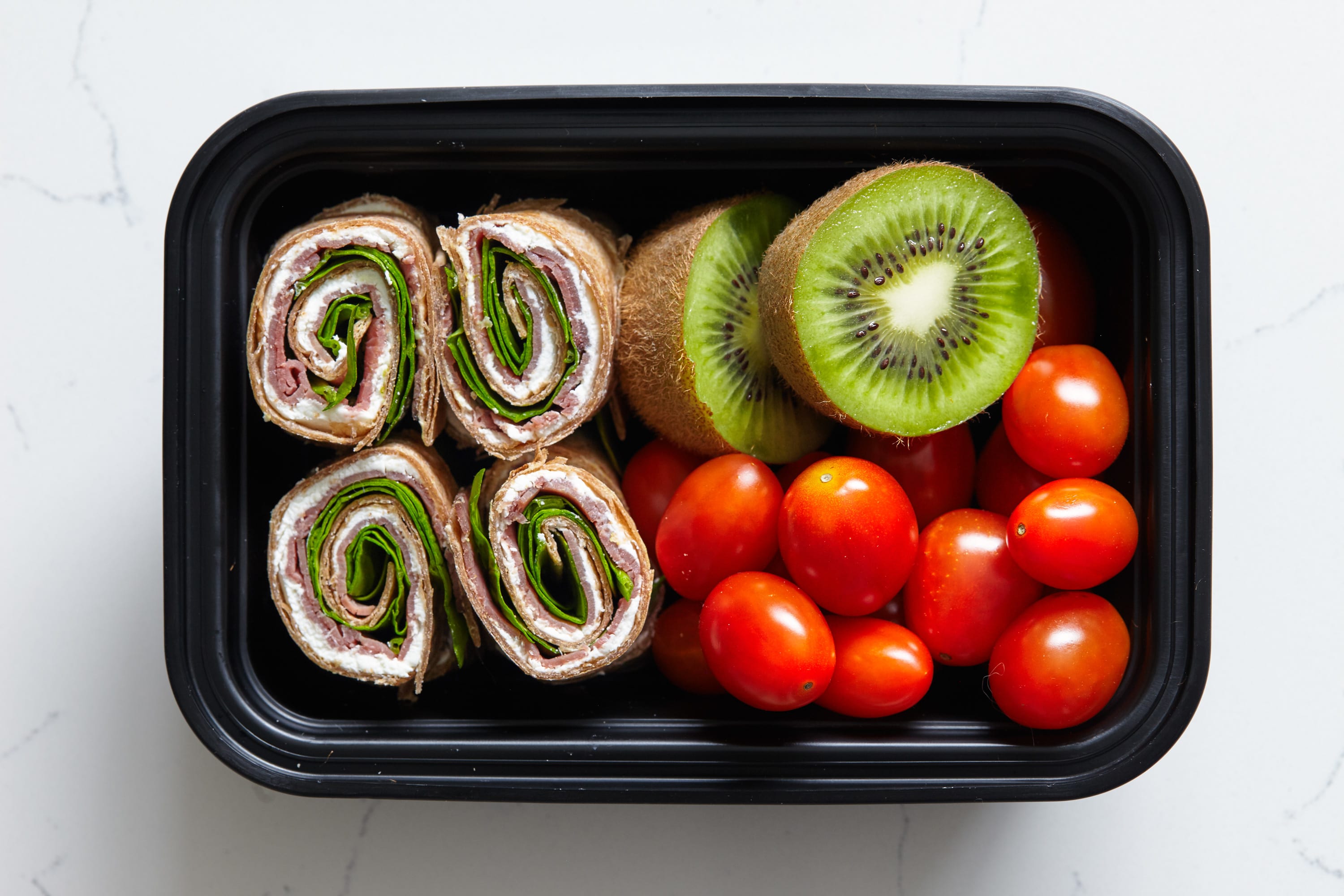 Chips and Dips Snack Box
What's in this snack: ½ cup baked corn tortilla chips (or these homemade tortilla chipsmade from 2 corn tortillas), ¼ cup guacamole, ¼ cup pico de gallo, ¾ cup bell pepper sticks, ½ cup pineapple cubes
Portion Fix containers: 1 yellow, 1 blue, 1 green, ½ purple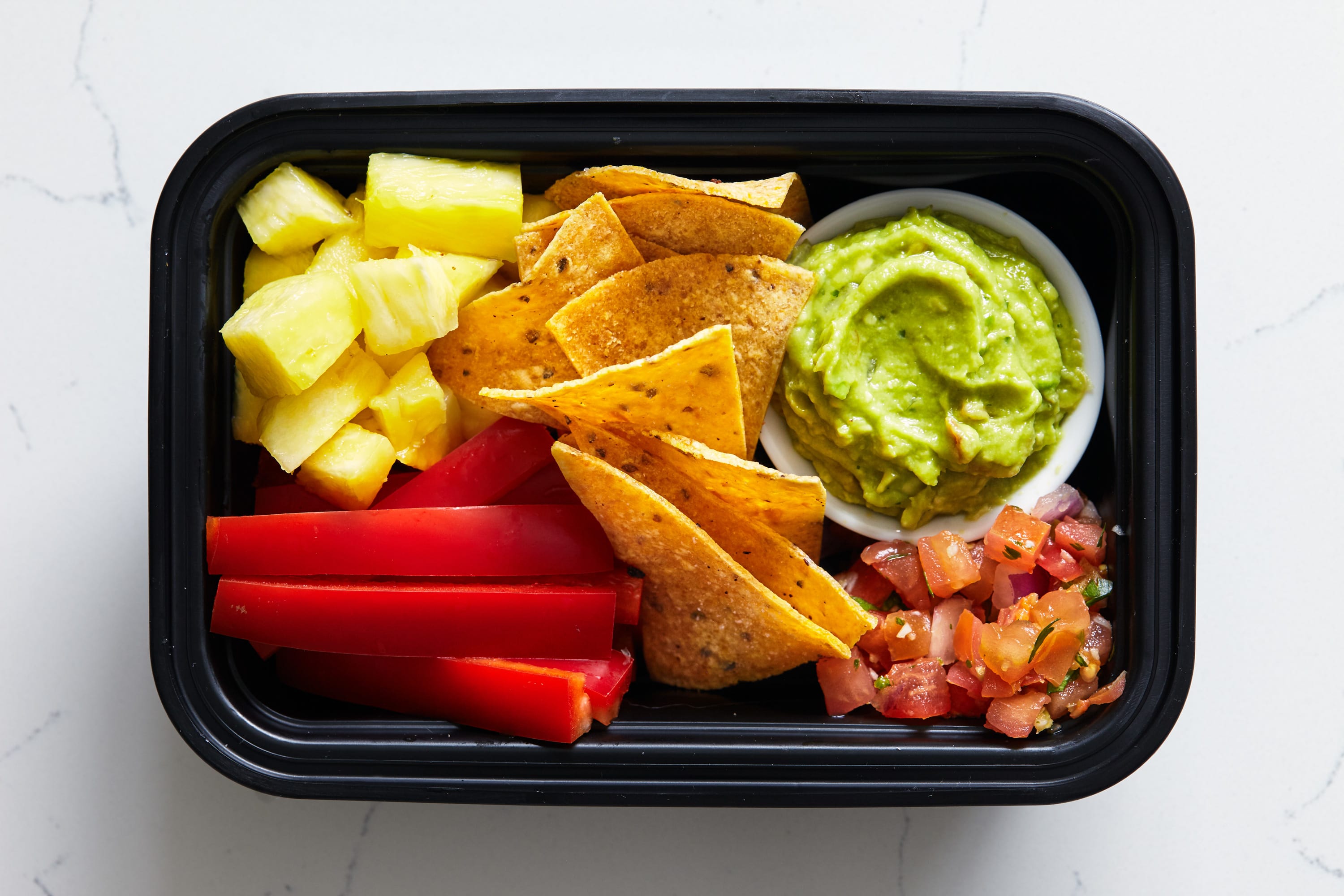 No-Cook Snacks for the Sweet Tooth
What's in this snack: 1 cup raspberries (or blueberries), 4 chocolate or plain Graham crackers (1 sheet), 1 Tbsp. cacao nibs mixed with 2 Tbsp. unsweetened coconut flakes
Portion Fix containers: 1 purple, 1 yellow, 1 blue, 3 tsp.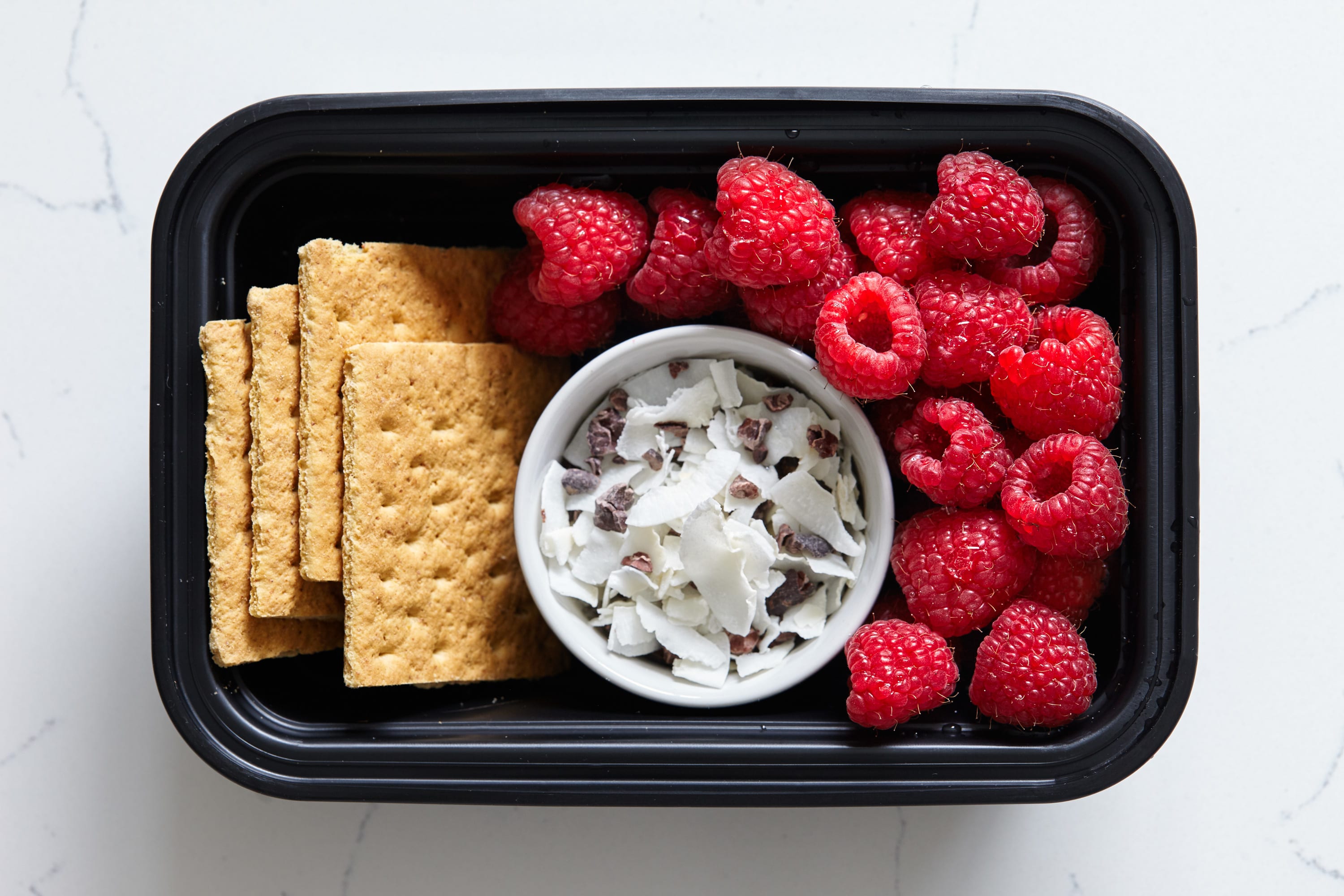 Article Credit: Kirsten Morningstar